http://www.cnn.com/2011/10/06/world/asia/lobsang-sangay-tibet/
(CNN) -- Lobsang Sangay has a hard act to follow.
He is the first Prime Minister, or Kalon Tripa, of the Tibetan government-in-exile to be directly elected by Tibetan delegates overseas.
The 43-year-old has taken over the day-to-day political responsibilities of the Dalai Lama and in doing so is the first person to succeed the political duties held by the Buddhist spiritual leader without the need for reincarnation.
The Dalai Lama said that in ceding his formal political authority to another was necessary for "democratization to be complete."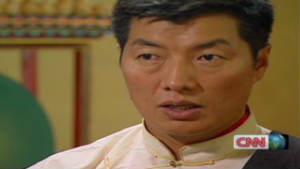 In the footsteps of the Dalai Lama
Sangay has never set food in Tibet and recently gave up his position as a research fellow at Harvard Law School to be elected the new Kalon Tripa and live in Dharamsala, India, away from his wife and daughter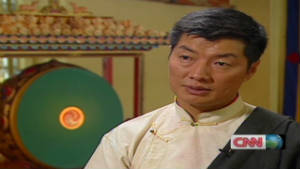 Has China improved Tibet?
Sangay's job is to continue the "middle way" advocated for decades by the Dalia Lama to give Tibetans true autonomy in Tibet . Sangay says he won't hold back in his view on what needs to change for that to be achieved.
"My job is a lot easier (than the Dalai Lama's). I guess I have to be the secondary voice, political voice at an international level so that people understand the situation in Tibet. That it is tragic and it needs to be addressed," he said.
"What will be slightly different will be that I will be more forthright and frank about the realities in Tibet. Present Tibet is a tragedy. Chinese government promised us a socialist paradise in the early 1950s. Now 60 years after, what you see is not a socialist paradise."
Sangay grew up in Darjeeling, India, where he went to a Tibetan refugee school before studying at Delhi University. His parents, however, experienced hardships firsthand in Tibet before they fled from the Chinese authorities in 1959.
His father, a monk, joined the guerrilla forces against the Chinese military after his monastery was reduced to rubble in 1956. In contrast Sangay remains committed to forceful words, not violence, in his role as chief advocate for better rights for Tibetans.
"(The Chinese government) have money power and military power but no moral power," said Sangay.
"China will not be respected if they continue to repress Tibetan people. If they want respect, they have to earn it. They have to earn it by performing a noble act -- performing an act which is based on universal freedom and human rights for Tibetan people."
Despite China's position on Tibet that it is an inseparable part of China and classified as an autonomous region, Sangay is hopeful that his mandate for dialogue with China could lead to a better future for Tibetans.
"Who would have thought even a year ago that (the Arab Spring) would happen. Things change in the world," he said.